Our Guide to Paper Sizes and Weights
The number of office paper products is daunting and it is often hard to tell the difference between two products, apart from the branding and packaging. But there are important differences between types of paper that can affect the quality of your print-outs. This guide is meant to make choosing the right paper for your office easier.
Choosing the right office paper
Certain types of paper – e.g.photo, listing, business card paper – have specialist uses which are explained in the relevant sections. But the most important differences between everyday, office types of paper are size (A4, etc), colour, weight (GSM) and printer type. Most plain paper will probably work in different types of printer, but this can't be guaranteed and the quality of the print-outs will vary significantly. Economy paper is fine for printing internal communications or for the fax or photocopier. But better quality paper will produce better printing results.
Size (A1, A2, A3, A4, etc)
Paper size is normally measured to an international standard known as ISO 216: A3, A4, A5, B4, B5 and so on. These sizes all have the same aspect ratio: 1:√2. A4 is by far the most common and this is the default size for most office and home printers. A3 is twice the size of A4 and tends to be used more for posters or presentations.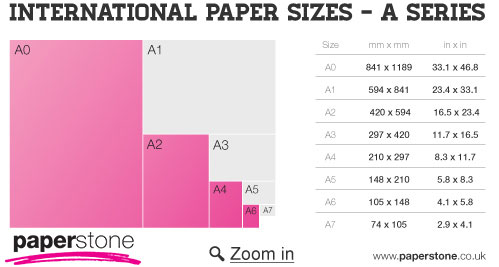 Colour
As well as coloured paper, white paper is sometimes graded by its whiteness. The higher the number, the whiter the sheet.
Weight (gsm)
The weight of paper is measured in gsm (grams per square metre). Effectively, this is the thickness of the paper: the higher the GSM, the thicker the paper. Most printing paper has a gsm between 60 and 120. 80gsm is standard. Anything from 160gsm is considered card. GSM is a good guide to quality. 60gsm paper will seem flimsy and see-through compared to 100gsm weight or 120gsm weight paper.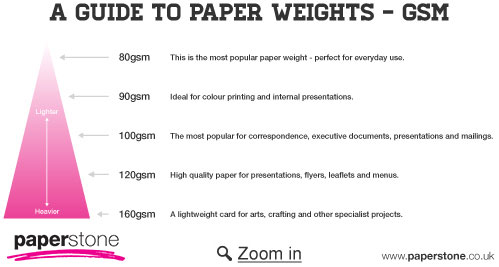 Printer type
Different paper types are suited to different types of printer. The key difference is that between copy or laser paper and inkjet paper. Copy and laser paper needs to run smoothly through machines and have good dimensional stability (i.e. consistent thickness, no warping). When it comes to inkjet printers, for high-quality prints, an even porosity is required throughout the paper so that the ink doesn't spread too much. In most cases, different types of paper work in different printers. However, printing quality can be compromised. For the best results, use inkjet paper for inkjet printers, speed paper for high-volume printing, and so on.
Looking after paper
Keep away from damp. Paper is designed with a specific moisture level which will be compromised by wet. Damp paper jams printers.
Sunlight and heat can warp paper, again causing printer jamming.
Keep paper in the packaging it arrives in – the ream packaging and the boxes – to protect from bumps and knocks that will misshape your paper. Boxes and reams will also prevent absorption of moisture.
The Victoria & Albert Museum has a guide to looking after and storing books and paper. It's more for the collector than the office worker but contains some good tips nevertheless.
Specialist paper
When printing photos on either inkjet or laser printers, it is vital to use the correct photo paper. If you are using an inkjet printer, you should have inkjet photo paper; for a laser printer, use laser photo paper. Most manufacturers, such as HP, Epson and Canon, recommend that you use their photo paper. However, there are also very good alternatives, including 5 Star and Kodak.
As well photo and listing paper, Paperstone stock a wide range of specialist paper, including pre-printed accountancy stationery, business card paper and carbonless paper. See specific sections for more details. We also stock a range of high quality paper by Conqueror.
If you need any help deciding what paper to get for your office, give us a call on 0345 567 4000 – we'll be happy to hear from you. Spend over £50 on office paper to receive FREE next day delivery from Paperstone.