Office Safes
We at Paperstone take office security very seriously which is why we supply a large range of office safes, security chests and security files.
Sales of strongboxes has risen steadily since the latest crisis of financial institutions started as confidence in banks and building societies to look after our money has plummeted. People are beginning to feel more secure with their personal wealth physically locked away in a safe rather than in what some may perceive as more abstract savings accounts. But office safes are also well worth having to store anything of value, not just cash.
What should I keep in an office safe?
Prototypes, designs, blueprints – anything that might be classed as intellectual property is potentially invaluable and worth keeping in a safe.
Legal documents and papers – safekeeping of licences, title deeds, contracts and patents may well prevent headaches in the future.
Computer storage – CDs, DVDs, memory sticks, USB storage, system back-ups – just in case.
Historical documents and correspondence – again, invaluable.
Along with any personal effects which are of great personal value to you.
Office safes and security boxes at Paperstone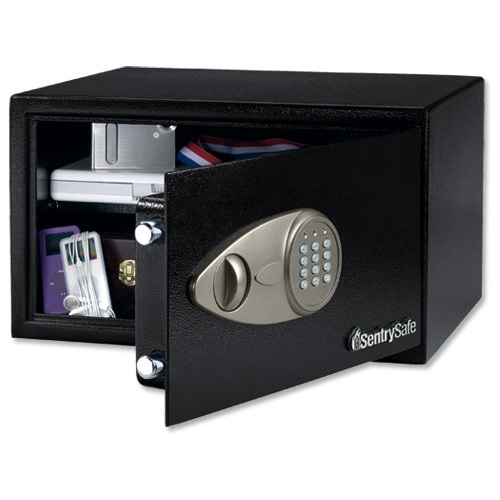 Office safes vary greatly in price so it is worth knowing some differences between products before committing to a particular safe. Variations in safes include the following:
Lock – Key or electronic (numeric code)
Capacity - in litres, from a small four litre safe up to safes with over 900 litres capacity
Wall thickness
Fire protection – up to three hours keeping paper and electronics safe from intense heat
Water resistance
Fixing options – for example, to bolt your safe to the floor
Filing cabinets and other secure file storage
We supply safes from Sentry, Secureline, Pheonix and Chubb.
Paperstone offers a Price Promise: Should you find a cheaper price for the exact same product and let us know within 14 days, we'll refund you with the difference. See the Paperstone Price Promisefor more details.
Locks and safes facts
Wooden locks and keys were used in Assyria as long as 4,000 years ago.
The word safe, originally save, comes from Middle French en sauf, "in safety", ultimately from from Latin, salvare and salvus. The word could refer to any receptacle for storage, hence this c.1440 description of a meat safe: "Almery of mete kepynge, or a saue for mete, cibutum." The word picked up its more modern burglar-proof connotations from the early nineteenth century. We recommend against keeping meat in your office safe these days.
Joseph Bramah patented the safety lock in 1784, Jeremiah Chub patented a detector lock in 1818. Linus Yales, Jr. developed the combination lock in 1862.
Fort Knox in Kentucky is a huge vault in Kentucky which houses the United States Bullion Depository of some 147.3 million ounces. The vault once held the Magna Carta, the US Daclaration of Independence and Lincoln's Gettysburg address. Building materials used included 16,000 cubic feet of granite.