Filing Cabinets – A Buying Guide
What is a filing cabinet?
A filing cabinet is an item of office furniture for storing files which hang from suspension rails. Filing cabinets are an effective way of storing large volumes of records while allowing quick access and reference. Most of our filing cabinets are vertical but side filing and multi-drawer cabinets are also available.
What size filing cabinet do I want?
Before you buy a filing cabinet, you need to be sure that it will fit into the space reserved for it. Measure the area you plan to use and check against the dimensions of the filing cabinet you want to buy. Remember to take into account the extent to which the drawers open. A tall filing cabinet might fit into a small area, but will you be able to access the files there? Also remember that a filing cabinet full of files is very heavy and not easy to move.
Side filing cabinets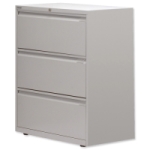 Side filing cabinets can provide a space-saving solution where floor space is limited. They are similar to vertical filing cabinets, but the drawers open on the "long" side. They have greater storage capacities and their drawers extend less than their tall cousins, making them ideal for tight spaces.
Each drawer takes one row of foolscap files sideways or two rows of A4 files front to back.
Foolscap or A4?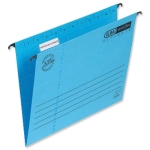 Foolscap suspension files are slightly bigger than A4 files. A4 suspension files sit on runners that are approximately 345mm apart while foolscap suspension files sit on runners that are approximately 400mm apart.
Some cabinets can accommodate both sizes but many can only take one or the other. Make sure your filing cabinet is compatible with the files you are going to use – particularly if you already have files ready to be housed.
The compatibility of any filing cabinet can be found in its product description.
Features to look out for
Locking. Keep your records safe under lock and key.
Steel or wood. Choose between high quality steel storage or smart wood in finishes including oak, maple and beech.
Holes on back and side. For securing filing cabinets together and to walls
Anti-tilt mechanism. Only one drawer can be opened at a time. This prevents the cabinet from toppling over.
Compressor plate. This is a metal divider to keep files tidy. Bought separately.
Insert trays. These fit into multi-drawer cabinets and split the drawer into small sections to help you organise. Bought separately.
Fire resistance. These extra-secure cabinets protect documents (and computer media) from extreme heat for a given period. Have a look at our range of fireproof filing cabinets.
Will my steel filing cabinet rust?
In a word, No. High quality steel does not rust easily and the paint will prevent rusting. But as a precaution, keep steel filing cabinets away from damp. Rust may form if the cabinet gets scratched. Scratched areas can be sprayed-painted over to prevent rusting.
Is my filing cabinet guaranteed?
Our filing cabinets are guaranteed for periods between 5 and 15 years, depending of the model. This means that within this period, the manufacturer will replace any faulty item.
When will my cabinet arrive?
Our A4 filing cabinets are available for next day delivery. If you order before 5pm on a weekday, these items will be shipped with FedEx for delivery on the next working day.
If the delivery estimate is longer than a day (which will be for the larger foolscap filing cabinets) you will be notified of the delivery date by email. The cabinet(s) will arrive separately from other items that you may have ordered.
Delivery estimates are indicated next to all our products.
Any questions?
Please don't hesitate to call the team on 0345 567 4000 if you have any further questions. Our staff are knowledgeable and friendly.