Free, Tracked Next Day Delivery
*
Order in the next:
* Next working day UPS delivery service on over 95% of our products; some lines may have longer lead times and delivery to some hard to reach areas might take longer. We also use MDL and Truline for bulky items. Free on orders over
£50
£60
ex VAT
inc VAT
.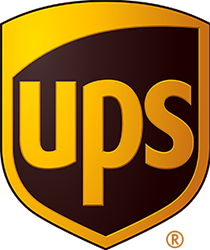 Courier delays affecting some orders
Due to pressure on the UK's courier network and a shortage of drivers, some deliveries might take an extra day to arrive. Currently, 85% of orders are being delivered within 1 working day to most UK addresses.
Please be aware that next day delivery cannot be guaranteed at the moment.
How much does delivery cost?
Order Value (

ex VAT

inc VAT

)
Delivery Cost (

ex VAT

inc VAT

)
Over

£50

£60

FREE
Under

£50

£60

£4.95

£5.94
Our delivery service covers the entire UK. This includes Northern Ireland, Guernsey, Jersey, Isle of Man and all Scottish Highlands and Islands. We don't deliver outside the UK - yet!
With large items like furniture, notice boards and safes sometimes we have to charge more for delivery but only when delivering in hard to reach areas - this is due to increased courier costs. See more details about Furniture and large item deliveries.
When can I expect delivery?
Items that are in stock and ordered before 5.30pm Monday to Friday will be delivered the next working day.*
| Order placed | Expected delivery date |
| --- | --- |
| Monday, before 5.30pm | Next day (Tuesday) |
| Tuesday, before 5.30pm | Next day (Wednesday) |
| Wednesday, before 5.30pm | Next day (Thursday) |
| Thursday, before 5.30pm | Next day (Friday) |
| Friday, before 5.30pm | Monday |
| Saturday or Sunday | Tuesday |
*We don't deliver at the weekend. So, if you order after 5.30pm on a Friday or anytime over the weekend you will receive your goods on Tuesday.
Furniture, large items and deliveries to the Scottish Highlands and Islands may take longer. Delivery timescales are shown clearly on the products and in the checkout.
You can track your order when it is out for delivery or has been safely delivered using My Account.
What happens next?
You'll receive an order confirmation email containing your order details and estimated delivery date.

When your order is on its way, you'll be sent an order update email.

Delivery day!
Unfortunately, we can't specify exact delivery times. But don't worry, if no one is available the courier will leave contact details so that you can arrange a convenient time for re-delivery.
Furniture and large item deliveries
Our furniture and large items are delivered from a different warehouse so will be delivered separately to other items you order:
Furdeco, our main furniture courier will contact you directly within 5 days of your order being placed to book in a suitable delivery date.
Delivery will be by either a lorry or small van, with a 2 man team.
The couriers will bring the goods over the threshold into a room of your choice.
Some chairs will go via a standard courier such as TNT or FedEx.
Furniture deliveries to Northern Ireland and Highlands and Islands
Deliveries to these locations will take longer - typically up to an additional 5 days.
We may have to charge more to cover the additional courier costs for these locations. Please call 0345 567 4000 for details before ordering online so that we can advise you on any surcharges.
Hard to reach areas
Delivery to hard to reach areas will take a little longer. These deliveries will take 2-3 days to reach you. This will affect you if your postcode falls into this list:
AB2-3
AB9-10
AB12-16
AB21-25
AB30-39
AB41-56
BT1-99
DD2-9
FK17-99
GY1-10
HS1-9
IM1-9
IV1-28
IV30-56
IV63
JE1-5
KA27-28
KW1-17
PA20-49
PA60-80
PH1
PH3-PH50
PO30-41
TR21-25
ZE1-3
Furniture and large items to these areas
We may have to charge more to cover the additional courier costs for these products. Please call 0345 567 4000 for details before ordering online so that we can advise you on any surcharges.
Deliveries to Northern Ireland
We understand that until 31st March 2021, HMRC is adopting a temporary approach regarding paperwork for deliveries to Northern Ireland post-Brexit. Orders under £135 to business addresses or for any value to home addresses need no declaration. You can find more HMRC advice here.
1st April 2021 & beyond
We're working to understand what will be needed from 1st April and beyond and will keep customers updated.
Can you deliver to me at home?
Yes. We deliver to all UK addresses so can deliver to you or your team at home. Our standard delivery terms apply. If you have people working remotely you can add multiple delivery addresses to your account. Call us if you need help on 0345 567 4000.
What are you doing to keep us safe?
Contact-free doorstep deliveries. Our courier, Truline, is complying with the Government and World Health Organisation (WHO) guidelines to make sure your deliveries are made safely.
They're now operating a no contact drop off system. Drivers place packages on the ground outside your door and step back to wait for you to collect them. No signature is required.
We're strictly following the latest government guidelines. There are increased cleaning & hygiene measures in all areas of our business – especially in the warehouse where your goods are packed.