Rollerball & Gel Pens
What is a rollerball pen?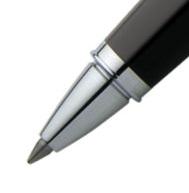 Rollerball pens are filled with water-based liquid inks, rather than oil-based. As the name suggests, the ink is dispensed onto the page with a tiny sphere in the pen's tip. This type of ink spreads freely and evenly onto the page as you write.
These pens come with either cone tips or needlepoint nibs. All of our products are clearly labeled, but you will be able to spot the difference between a cone-tipped or a needlepoint pen because the latter is very thin and almost looks like a fine-liner. Cone tipped pens, on the other hand, generally have metal cones.
Cone tips are more sturdy, and can withstand writing for prolonged periods of time, while needle-tips are better suited to more intricate work.
What is a gel pen?
Gel pens use ink where a pigment is suspended in a water-based gel. The ink is thick and opaque and shows up more clearly on dark or slick surfaces.
Two types of rollerball pen
Cone tipped rollerballs offer strong protection to the writing ball and are suited to high volumes of writing.
Needlepoint tipped rollerballs have less contact between the ball and the tip. The resulting reduction in friction produces very free-flowing ink, suited for detailed writing work.
Rollerball versus ballpoint
Less pressure is needed to write with a rollerball because the ink flows more freely. This affords a smoother writing action. Rollerball inks are available in more colours. The written lines of rollerball pens tend to be clearer than those of ballpoints.
Liquid-ink rollerballs skip less than both gel rollerballs and ballpoints.
However, because of the nature of the ink, rollerballs tend to smudge more frequently and sometimes bleed through the paper. They also tend to have a shorter lifespan than ballpoints because of the free-flowing ink. They are more prone to leaking.
Parker rollerball pens are particularly sleek and professional, with metal features and signature Parker details.
Classic shades include black, blue and red. But we also have rollerball pens in green, pink, and violet. Rollerball pens are also available in packs of assorted coloured.
Rollerball pens have different features that can make writing easier, including comfort grips. You can also find pens with erasable inks on our website, as well as models which are refillable.
If you are eco-conscious, you might be interested in our selection of recyclable pens.
Rollerball ink pens are available in many widths, including as thin as 0.3mm to as thick as 0.7mm.
Nib width
Also referred to as tipping size, nib width refers to the size of the part of the nib that comes into contact with the paper. The broader the nib, the more ink flows onto the paper; thus the broader the nib, the smoother the writing experience.