A Guide to Printing Labels (including Avery)
This section offers the most up-to-date and comprehensive range of printing labels, as well as containing Avery label sizes and codes guides. "Avery" is almost synonymous with "labels" but Paperstone also stock Post-it, Adpac, Durable and 5 Star brands. Our range is huge and in addition to standard inkjet, laser and copier products we sell franking, CD/DVD and speciality labels such as weatherproof, repositionable and self-laminating. You'll also find plastic and strung tags in this section.
Every label has a corresponding Avery template code to make the printing process easier. Look out for tables which match numbers per page to the appropriate code.
Avery labels at Paperstone
You can see our full range of Avery Address Labels by clicking here.
Avery provides a complete solution for home printing all types of labels. Paperstone sells laser, inkjet and other label variations including clear, repositionable, heavy duty and recycled options. We also offer some of the more specialised alternatives in the range such as afterburner CD labels.
Things to note...
Avery labels quality assurance
Laser and inkjet labels are fully guaranteed to work on all appropriate printers
Their website offers online support for all your label-printing needs and allows you to download different templates for different products.
Inkjet labels are now quick-dry making them smudge free
Avery provide a product for almost every imaginable labelling need. They can be used for addressing, identification, filing and media with both inkjet and laser printers. There are Avery label templates available in Microsoft Word and other popular software packages. Their labels are jam-free for trouble-free printing and offer great results on colour printers, whilst leaving no residue with a 100% money back guarantee. Quick-peel labels allow for quicker and easier detachment and can save up to 25% of your peeling time. They are also compatible with the Royal Mail SmartStamp. Their clear labels can easily blend into the background of whatever envelope to which they are stuck.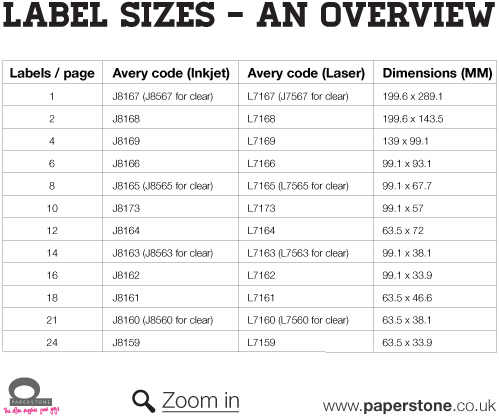 Avery label sizes guide. What is the right code?
Printing labels from your PC can seem daunting, but for each number per sheet there is a corresponding code to use in Word so that addresses, etc. fit nicely. In Microsoft Word, under the Mailings tab, click Labels button, then Options. Choose "Avery A4/A5" from the Label vendors drop-down menu. You'll then be able to select an appropriate code (e.g. J8159) from the Product number list. The codes correspond to the number of labels per page as follows:
16 per page = J8562 or J8162
18 per page = J8161
12 per page = J8164
10 per page = J8173
6 per page = J8166
2 per page = J8168
4 per page = J8169
1 per page = J8567 or J8167
The appropriate code should also be indicated on your product. Or you can consult this website for more printing tips.
But if you require any further help, we'll be happy to help out. Call us on 0345 567 4000.