Bubble wrap at Paperstone
Everyone's favourite packaging material, bubble wrap is a transparent plastic material with protruding air-filled hemispheres. Bubble wrap cushions fragile and breakable objects from harm. Use multiple layers of bubble wrap to provide extra protection where you see fit.
Aside from its protective qualities, bubble wrap is popular because of the pleasure derived from popping its "bubbles", an activity inherently satisfying and seen to have a cathartic effect. The popularity and ubiquity of this activity is such that a portable bubble wrap popping simulator, called Eternal Poppety-Pop, has been manufactured in Japan. This keyring-sized game allows users to pop plastic bubbles, which are then replenished immediately and repeatedly. There are also virtual popping games on the web.
The bubble wrap range at Paperstone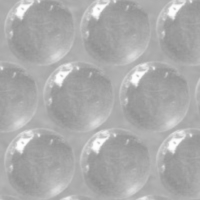 Paperstone sells bubble wrap:
in large rolls
in self dispensing boxes
in pouches
Paperstone stocks bubble wrap with different bubble sizes such as:
10mm wide x 5mm deep
30mm wide x 10mm deep
Paperstone also sell protective bubble envelopes, Jiffy bags and a whole range of other packing materials for all your packaging needs!
If you have any requestions relating to your packing and packaging needs, give one of the Paperstone team on 0345 567 4000. We're here to make your life easier.
You may also be looking for: