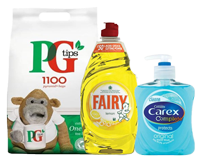 Top up your
kitchen essentials
Office kitchen

catering essentials
The hub of your business.

The office kitchen
Office kitchens are the heart of most businesses. It's where the gossip happens. People get to know each other better over more informal chat while the tea brews. Great ideas are sometimes sparked in the office kitchen as different teams meet and share their thoughts.

Office kitchens also play a vital role in the wellbeing of employees. We all need a break from our screens and to clear our heads at work. It's important they're kept clean as according to a study (by Hayward Baker Solicitors) 35% of people have picked up an illness at work.Research by microbiologist Charles Gerba showed that one in ten office mugs carry nasty germs. Yuck!

Have you made your office kitchen welcoming? We offer a wide range of catering essentials to suit your team's taste. And, we can help you keep it clean and tidy with our extensive range of cleaning products.

Popular

office kitchen products