Postcard-sized C6 Envelopes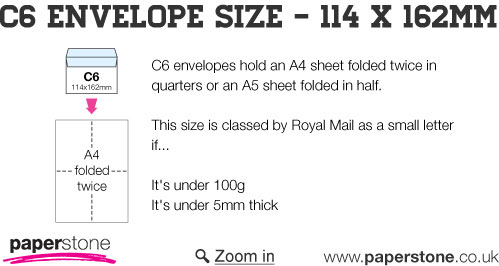 C6 envelopes measure 114 by 162 millimetres and will fit an A5 sheet of paper folded in half, an A4 document folded twice or, indeed, a postcard. Small and unobtrusive, C6 envelopes are ideal for invitations and understated or informal communications. They are the Tom Cruise of the envelope world and popular to boot.
Available in white and brown, plain and window, from 5 Star, New Guardian and Plus Fabric. These diminuitive envelopes are classed by Royal Mail as small letters - as long as the weight is less than 100g and the thickness less than 5mm. (See here for latest prices.).
Other popular sizes