Note Blocks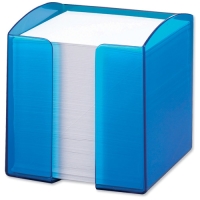 Note blocks are a non-sticky alternative to using Post-it notes. They are ideal for positioning near the phone or in a reception area where notes need to be made quickly.
Note blocks require a note block holder (noteholder) to hold them together in one place.
All of our note blocks are a standard size: 90x90mm. They range in quantity from 750 sheets to 850 sheets per note block.