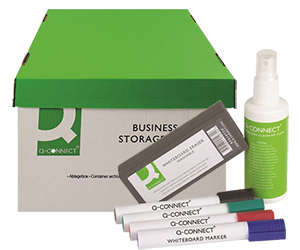 We've launched a new affordable range for every day use
Say hello to Q-Connect, offering over 1,500 affordable, quality office products across 70 categories.
From paper and desktop accessories to filing, storage, cleaning essentials, and more - you'll find all that you are looking for in our Q-Connect range.
Q-Connect products are packaged in vibrant colours which look fresh and modern so they help liven up your stationery cupboard.
Popular

Q-Connect products
What's happened to 5-Star?
The 5 Star brand faces an uncertain future as its owner has gone into administration.
To ensure a consistent supply of high quality, affordable office products we've partnered with Q-Connect.
Q-Connect offers an excellent alternative to 5 Star with a range of over 1,000 directly comparable products.
Switching 5 Star to Q-Connect
We've automatically switched 5 Star products to the Q-Connect equivalent meaning there's no interruption to supply and no need to do anything if you previously bought 5 Star.
You can shop via search and from your favourites as before.
We're so confident you'll love Q-Connect as much as we do, that we'll refund you or send you an alternative if you're not 100% happy.
Explore the

Q-Connect range
If you have any questions
Address
Paperstone Ltd
15-17 Mount Ephraim Road
Tunbridge Wells
TN1 1EN

VAT number
GB 843 6297 05