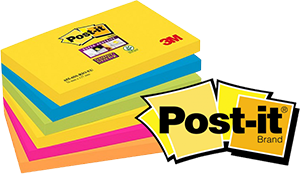 The Post-it® edit.
A handpicked selection.
Most popular

Super Sticky Notes
About Super Sticky Notes
Holds stronger and lasts longer, with 2x the sticking power compared to Post-it® Original Notes.

Perfect for vertical or hard to stick surfaces such as computer monitors, doors and walls.

Made with a 60 % renewable resource adhesive from a plant that regrows annually.

Post-it® Super Sticky Notes stick and re-stick wherever you are working and don't leave residue.

Download the Post-it® App to digitise your handwritten square Post-it® Notes, seamlessly and easily.

Arrange, refine and organise notes and ideas on your board anyway you see fit.

Popular

Large Sticky Notes