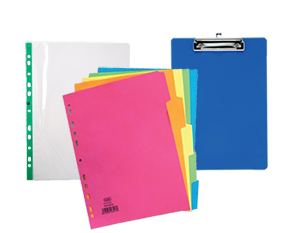 Smaller pack sizes
perfect for working from home
Next day, contact-free, doorstep deliveries
Many of us are working from home so popping to the shops to pick up a pad or pen isn't really an option. We've typically supplied whole teams but we realise a box of 30 notebooks may be a little overkill for those trying to fit their new 'Home Office' onto the end of their dining room table.
So, we've launched a series of great value products available in single packs – perfect when you just need just a few bits.
Better still - we deliver to your doorstep, contact-free, the next working day.
From note-taking to story writing to picture-making we have a pen or pencil to suit you. Shop our huge range of pens, pencils, highlighters, markers and more. We stock familiar household names like Bic, Sharpie and Stabilo.
The lines between stationery, office supplies and so on are blurry but we use the term desktop essentials to refer to those items on or around your desktop that you use every day at the office and often at home
Let's face it - most of us have a pile of papers that we never quite get round to putting away. But there's no excuse for desk or office clutter with the fantastic range of economic, practical, luxury and downright funky folders and accessories available from our extensive range.
We sell a huge range of high-quality books and pads. Many products in this section are available as wirebound or casebound. The spiral coil which keeps the pages of wirebound books together make flipping through pages quick and easy.
The most popular paper in homes and offices is A4 80gsm white paper which is ideal for most people's needs. We stock a wide range of paper sizes, weights and colours.
We all need to keep our energy up when working from home. Make sure your snack cupboard is fully stocked with our range of food.
Keep surfaces clean and free of bacteria with our range of surface sprays and wipes.
Depending on whether working from home is the norm for you, or it's just for the time being, we have office furniture to suit your needs.
Reasons

to choose Paperstone