What if an item is out of stock?
If a product is out of stock, you will see the below 'Pre-Order' button in place of the 'Add to Basket' button. There will be a due date shown next to this button which will be the date we are due stock back into our warehouse. If you hover over this date, you will also see the message as below;

The due date provided is the date the new batch is due into our warehouse. As soon as the item arrives in stock, it will be dispatched to you for either the next working day or within 2-5 working days for the larger/ bulkier items and furniture.
If a product has been discontinued by the supplier, it will not show in our category pages. If you have specifically selected this item from your 'My Favourites' list or have searched for an old product code, you will be directed to the product page but you will see the below message;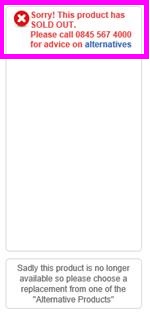 If this is the case with a product you want to buy, give us a call on 0345 567 4000 and we'll see if we can track down the item or offer a similar alternative.
> Return to Help Main Menu