Office First Aid – Accident Books
An accident book or accident report book is a printed form book in which accidents at work are logged.
By law, employers are required to keep a record of all injuries that happen on their premises and to employees working elsewhere on their behalf.
The accident book should be permanently accessible. However, all personal details should be detached and stored separately under lock and key.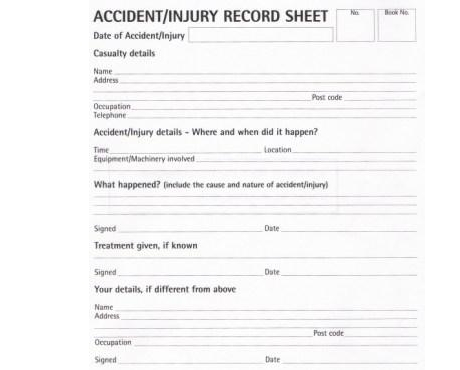 Accident book records should be stored for three years.
RIDDOR
In addition to keeping a record of workplace injuries in an accident book, deaths, major injuries and other specified accidents must be reported under the Reporting of Injuries, Diseases and Dangerous Occurrences Regulations 1995 (RIDDOR) Act to the relevant authority. The Health and Safety Executive provides an explanation of RIDDOR on its website.
Accident books at Paperstone
We sell accident and injury books and folders from Guildhall and Wallace Cameron. All our accident books meet health and safety regulations. Perforations allow personal details to be detached in accordance with Data Protection Act requiements
Accident books are available in A4, A5 and 210x200mm. Accident report folders – in which you can put loose leaf accident reporting forms – are also available.