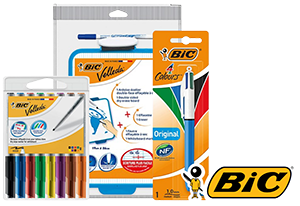 The Bic® edit.
A handpicked selection.
The water-based ink of the Bic highlighters doesn't pass through the paper. Their tip allows a flexible line, either in thick and intense line, or in finer line.
Bic Cristal pens keep writing for over 2km. The balls are perfectly spherical and almost harder than a diamond. All Bic products are rigorously quality checked to make sure the product you receive is top notch.
TIPP-EX helps white out any mistakes. Instantly correct mistakes with no drying time needed. Just carry on writing away.
Drywipe whiteboard markers
Need a hand choosing? We're here to help.
Sales Advisor Sophie has got moves like her idol Beyoncé. When she isn't taking your orders, she can be found wearing her cosiest PJ's doodling with her favourite colouring pens.
Sophie
Sales Advisor
sophie@paperstone.co.uk
Address
Paperstone Ltd
15-17 Mount Ephraim Road
Tunbridge Wells
TN1 1EN

VAT number
GB 843 6297 05