Dust masks (respirators)
What is a dust mask?
A dust mask or respirator is a mask worn over the mouth and nose to protect the wearer against the inhalation of dusk and other harmful particulates. This dust mask acts as a filter as the wearer breathes, the filter material porous enough to allow air to pass but not bigger particles. The mask may have a valve. Respirators are worn by, among others, people working in dusty environments (e.g. when sanding) and also by cyclists wishing to minimise the airborne pollutants from motor vehicles they might inhale on roads.
When is a dust mask necessary?
Dust masks are essential wear for workers installing fibreglass and offer protection when sanding and working with power tools, particularly on surfaces coated with dried paint where the dust formed may be toxic. Dust masks are commonly worn in agriculture as well where workers may come into contact with germs and spores, as well as pesticides and fertilisers.
Dust masks – safety first
Before buying a respirator we strongly recommend that you find out what dust mask you might need. The Health and Safety Executive provides comprehensive information and on occupational health including a page on dust masks.
We sell two types of respirator. Filtering Facepiece (FPP) 1 type reduces the amount of dust you breathe by a factor of 4. FFP1 is suitable for warehouse work , general woodworking, sanding (paint, plaster and softwood) and fibreglass installation. FFP2 classification reduces the amount of dust you inhale by a factor of 10. It offers protection for the above scenarios as well as power tools and metal working. If you are exposed to grain dust and spores, a stronger type (FFP3) is recommended. We don't supply FFP3 at present.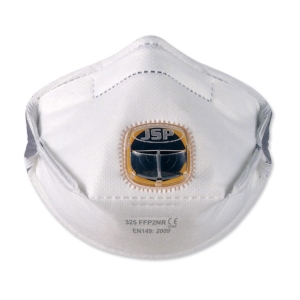 Paperstone sells disposable dust masks. If the respirator gets damaged or breathing becomes difficult, replace immediately. Do not use a nuisance dust mask as a substitute for a proper respirator. It will not offer the same protection. Also note that our respirators offer protection against dust, not toxic fumes and gases.
If you are unsure about anything, don't hesitate to call us on 0345 567 4000. If we can't answer your question, we can at least point you in the direction of someone who can.