How can I organise My Favourites?
You can sort My Favourites by clicking on the following links:

Most Purchased sorts products by the amount of times they have been purchased, listing those bought most often first. Using this sort will allow you to see your most popular products.
Recently Purchased lists products bought most recently first. Use this sort if you want to purchase items bought in the last few orders.
Price High sorts products by descending price, listing most expensive products first. Use this sort to manage your office supplies budget by weeding out the bigger spends in the future.
Price Low lists products in ascending price, cheapest first.
Name list products in alphabetical order.
You can also filter products using the check boxes at the top.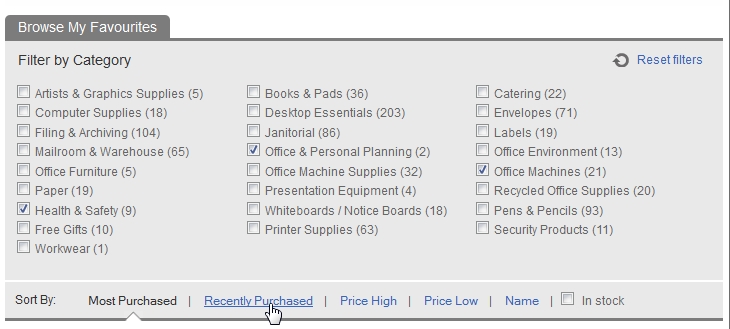 These category filters correspond to the categories used elsewhere on our site.
Checking a category filter means that only products in My Favourites falling under that category will be displayed. For instance, if you check the Paper box, only paper products you have purchased or have added to My Favourites yourself will be displayed.
However, you can check as many boxes as you like. So, for instance, you can check the Paper, Labels and Envelopes boxes to see all products in My Favourites under these categories.
The Reset Filters button in the top left of My Favourites clears the filters so you can start from scratch.
Finally, you can choose how many products you want per page by clicking on the drop-down just below the sorting links – 10, 20, 50 or 100 results per page.

> Return to Help Main Menu