Lateral files, lateral filing systems and filing accessories
How it looks…
Lateral files inside run from left to right, as opposed to front to back as is the case with suspension files and how they are filed.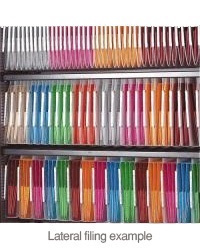 Do I need Lateral files or Suspension files?
Vertical suspension files(Standard suspension files) are accessed from the top and usually have tabs or labels on the top. These are generally used in the type of filling storage that you would pull out like a filing Cabinet or pedestal.
Lateral suspension files are accessed from the side and have their tabs on the side for easy reference and access. These are usually stored in a cupboard with a lateral filing system or a side filing cabinet. If you are unsure what type of suspension file you need check to see how the existing files are suspended, if documents are accessed from the top then you'll need standard suspension files. If they are accessed from the side you will need to purchase lateral suspension files.
How much variation is there?
Full range of colours, brands material including economic options
Massive choice of inserts and tab accessories
V base (15mm capacity holding up to 150 sheets)
Square base (30mm capacity holding up to 300 sheets or 50mm capacity holding up to 500 sheets)
Sizes and capacities to suit all lateral file systems
Spoilt for choice? Call us on 0345 567 4000 for advice.