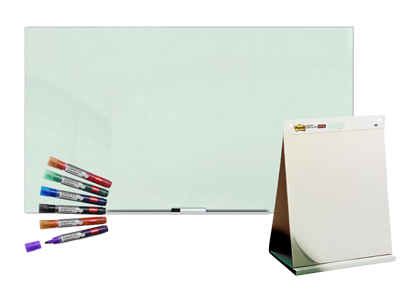 Modernise your meeting room
Boost productivity & creativity
Meetings, meetings...
We spend lots of time at work in meeting rooms so it pays to make sure they work for you. The right furniture and products in a meeting room can make all the difference to the atmosphere. They can even improve productivity and creativity increasing the effectiveness and efficiency of your meetings.
Modern meeting room products
Why choose a glassboard?
Look slick and professional
Contemporary look
Wipes clean with no ghosting from the previous use
Highly durable and long lasting
Why choose an executive chair?
Professional look and feel

Greater level of comfort

Support in all the right areas

Help define a meeting space from the rest of the office
Why choose a boardroom table?
Create more meeting space
More professional atmosphere
Can offer a write-on surface
Shaped to get the most from your meeting eg boat-shaped for collaboration
Why choose coloured sticky notes?
Helps colour code ideas and input
Encourages involvement
Brings ideas to life
Draws attention to ideas
Create a professional presentation