Despite our anxieties about internet security, identity theft and online fraud, some of us don't make much of an effort when it comes to conjuring passwords.
Security company Imperva has analysed the passwords of 32 million accounts of RockYou.com, a social networking application and advertising site which stored passwords on behalf of sites such as Facebook, which got hacked in December.
Here are the most popular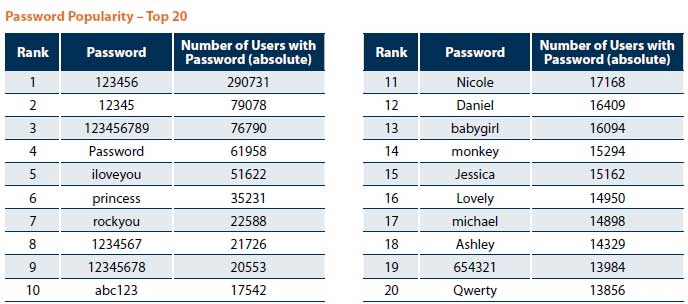 As can be seen, almost 300,000 of the 32 million accounts (i.e. one percent) used the imaginative password, '123456'. About 30% of all users' passwords were six characters or less. Nearly half used names, slang words, dictionary words or trivial passwords (consecutive digits, characters, etc).
Imperva recommends the following for safe passwords:
At least eight characters
Mix of four character types: upper case, lower case, numerics and special (@, #, £, etc)
It should not be a name, slang word or any word in the dictionary. It should not contain any part of your name or email address.