Goggles, safety spectacles, eye protection
Eye protection – goggles, safety spectacles, visors – may be necessary if eyes are at risk from chemical or metal splash, dust, projectiles, gas and vapour, and radiation. 3M safety eye wear is designed for comfort and protection.
Types of eye protection at Paperstone
Over spectacles are impact resistant goggles which can be worn over most prescription glasses. Over spectacles are ideal for visitors. With adjustable headband or fixed side shields.
Splash-proof googles meet European Standard EN166. High comfort splash-proof goggles offer resistance against liquid droplets, gas, dust and molten metal. They have a flexible frame and adjustable headband. The lenses are anti-mist and scratch-resistant.
Line safety spectacles are comfortable and lightweight eye protection spectacles in a sporty design for occasional wear. Lenses are anti-scratch and anti-fog. Comfort line safety spectacles have adjustable temple length.
Useful info on eye protection at the workplace
In many working environments, protection for the face and eyes is mandatory. Eye injuries can cause pain, lost time and money and in worst case scenarios your eyesight. Many day-to-day tasks can generate flying debris which can seriously injure the eyes – wood and paint chips, dirt, concrete particles and even nails. Work may also involve harmful or hot liquids.
Eye Protection is a requirement under Regulation 4 of the Personal Protective Equipment At Work Regulation 1992 when at risk in a hazardous area. Employers must provide personal protective equipment that offers suitable protection to personnel who may be exposed to potential health risks. The Safety Supply Company has a range of eyeshields, spectacles, safety goggles and faceshields that offer class leading protection solutions for the workplace.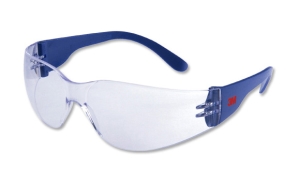 Remember – As well as providing your employees with suitable and effective personal protective equipment, make sure you minimise the risk of accident in the workplace by following health and safety procedures.
Have a look at the Health and Safety Executive's Short Guide to Personal Protection Equipment for more information on the basic duties of employees.