Staple guns
What is a staple gun?
A staple gun (aka tacker aka brad nail gun) is a hand-held tool for heavy duty stapling. These beasts step into the arena when standard office staplers take a bow, tacking fabrics, canvas, leather and posters etc to wood and even masonry. Staple guns are used predominantly in commercial and industrial contexts but are also handy for occasional uses.
Differences between staple guns and office staplers
Unlike standard office staplers, staple guns lack an "anvil" – that's the curvy bit that bends the legs of staples inwards and flattens them. The legs of staple guns staples instead remain straight and stay in place as nails do – by static friction. In addition, a spring-like mechanism stores mechanical energy to deliver the staple or brad nail in a single, powerful blow, necessary for their heavier duty uses.
Staple guns at Paperstone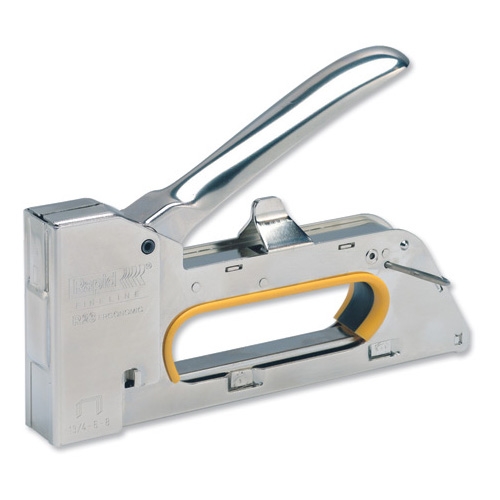 All Paperstone staple guns are hand-held and hand-powered with squeeze action and cover most possible uses around the workplace. Staple guns are not that expensive, the median price in our range is somewhere around 25 quid (the hobby tacker is only £7). Check particular products for details but features of staple guns may include:
Adjustable stapling force for different base materials
Both staple and brad nail compatibility
Easy access to staple compartment
Low staple indicator
Recoilless action
You may also be interested in the fantastically named Stanley Sharpshooter heavy duty staple and nail gun which you'll find in our DIY Tools section. In that section you'll also find things like power drills and screwdrivers.