Delivery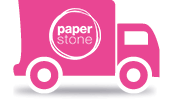 Next Day Delivery is free on orders over £50 (ex. VAT) to most UK and Northern Ireland addresses. The delivery cost for orders under £50 (ex.VAT) is £4.95 (ex.VAT).
Next Day Delivery is available on most of our non-furniture items. Heavy, bulky items (e.g. furniture, whiteboards, safes, etc.) and all deliveries to the Scottish Highlands and Islands usually take longer. Items must be in stock and the order must be placed by 5:30pm, Monday to Thursday. Orders placed before 5:30pm on Fridays will be delivered on the Monday (except for bank holidays).The stock and delivery times are indicated in every product list and every individual product page.
If you are registered, you can now track your orders in My Account. Click on any order for full details and its progress.You'll receive an automated Order Confirmation email shortly after you place your order which contains delivery estimates for your items. You'll also receive an Order Update email when your order has been shipped and a Back Order email if any items cannot be dispatched on the day you order. You can also track your orders via these emails.
All orders are dispatched by courier and need to be signed for on delivery. Unfortunately, we cannot specify exact delivery times so if you're going to be away on the estimated delivery date, try to get someone to sign on your behalf. If no one's in to sign for your delivery, the courier will leave contact details so that you can arrange a convenient time for redelivery.
> Return to Help Main Menu