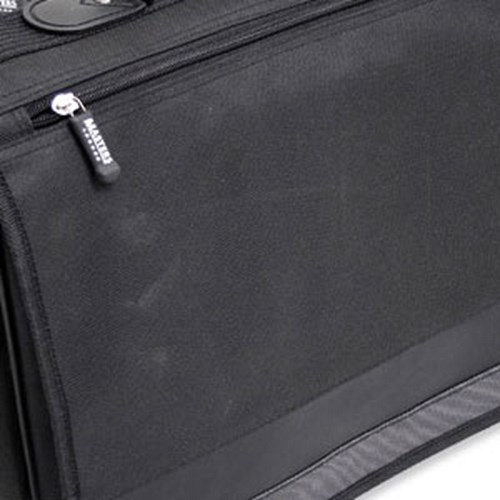 Scandalous: Bag
They're over the media like red, splotchy chickenpox – images of Sarah Ferguson selling her ex-husband Prince Andrew's personal attendance for half a million quid (without, it has turned out, the knowledge of the prince). In the secretly filmed News of the World video, the talented Duchess is seen accepting a $40,000 down-payment packed in the undercover reporter's computer bag. She has since apologised and acknowledged a "serious lapse of judgement" – though this "lapse of judgement" seems to have had a long duration: she met with a businessman to arrange meetings between him and Andrew in Kazakstan and Abu Dhabi back in January. It is also well-known that she has fallen on hard times (aristocrat-in-debt rather than born-in-Grozny hard times) and in recent days has drawn attention to her "poverty" to mitigate her behaviour.
But we feel the unsung hero of this tawdry episode is the black computer bag in which was stuffed her advance. Without this noble case she might have been reduced to stuffing the money down her trousers, or using a Tesco's carrier or, more appropriately, a swag bag. It is difficult to tell from the grainy YouTube vid what model of computer bag was used to pack the dosh. Was it, we wonder, a Masters New Nylon Computer Case (with organiser and document pocket) or a Masters Soft-Sided Laptop Briefcase (with flapover, quick release clasps and shoulder strap)? Or maybe it was a Solo Polytwist Messenger Case for a 17-inch laptop (padded with adjustable shoulder strap). The makers of the bag in question would do well to come forward and claim it as their own. The office supplies world awaits.
Earlier this month, Ferguson told a reporter (the undercover News of the World one in fact) that she was working on a new book: "It's going to help men with how to deal with irritating, greedy wives, who are completely out of control," she said. Plans might since have changed. Expect shortly to see her attempt to extricate herself from pariah-hood with an "I-can-laugh-at-myself" media performance – an advert for a computer bag, perhaps.